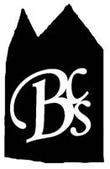 Barbara Jenkinson, Musical Director
Barbara Jenkinson has been directing Bruton Choral Society since November 2009.
For many years she taught music at Bruton School for Girls and she has also taught at Godolphin School, Salisbury and Queen's Gate School in London, where she was Director of Music. She recently retired from her role as piano teacher at King's School, Bruton. She continues to direct the choir at Sexey's Chapel.
Barbara studied at the Royal Academy of Music and graduated from the RAM and London University. She has a long term interest in the work of the composer and music educator, Zoltan Kodaly, and in 2003 she was awarded a scholarship by the International Kodaly Society to spend a year in Hungary at the Kodaly Institute, studying the Kodaly method and choral training and conducting.
She has also organised a number of choir tours in the UK for choirs from the Kodaly Music School. On some occasions these choirs have visited Bruton and given concerts and workshops here, as well as giving concerts in cathedrals and churches across the UK.
One of the Choral Society members commented: "Barbara has a lovely way of putting us right without putting us down."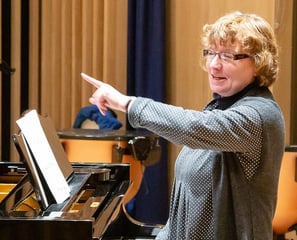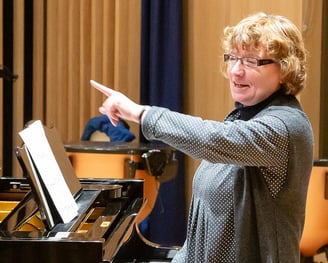 Clare Sydenham, Deputy Director
Clare Sydenham has been our Deputy Director since 2012.
She graduated from Royal Holloway College, London University, specialising in piano performance at the Royal Academy of Music. She is in demand as an accompanist and chamber musician in the South West and in London.
Clare also plays Electric Bass, Jazz Keyboard, Oboe and Tenor Horn. She teaches piano and theory at King's and Sexey's schools.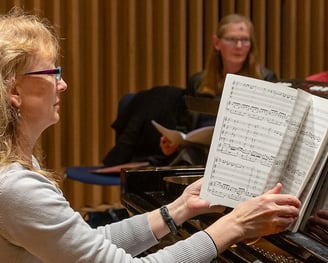 Geoff Allan, Deputy Director
Geoff Allan has been our Deputy Director since 2016.
He graduated from Royal Holloway College, London University with a degree in Physics. However he probably spent more time in the Music department as a tenor in the Chapel Choir, Savoy Opera Society and various orchestras as a Violinist.
He has continued these interests in Somerset and Dorset over the last 40 years as Decani Alto in Sherborne Abbey Choir and as soloist, occasional MD and Director for Milborne Port Opera and MD of Myllburne Camerata. He has sung with many other choirs in the south west.
He is a published choral composer and makes a living as a Software and Systems Architect.